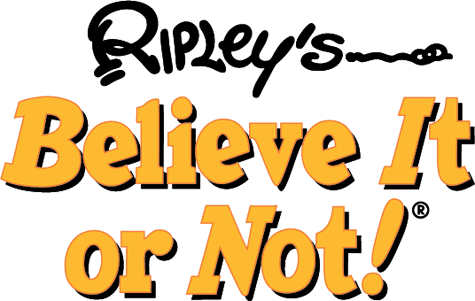 We all have rules that we had to abide by while growing up. We've all heard them... "Don't put your finger in your nose, it's gross!" or "Don't play with your food!". Well these rules obviously didn't apply to some of the people in Ripley's newest book (the 9th annual) Download The Weird. This book is packed full of interesting oddities or things that will just plain gross you out like a man that can stick his finger THROUGH his nose or an official game where a headless goat carcass is the object of play!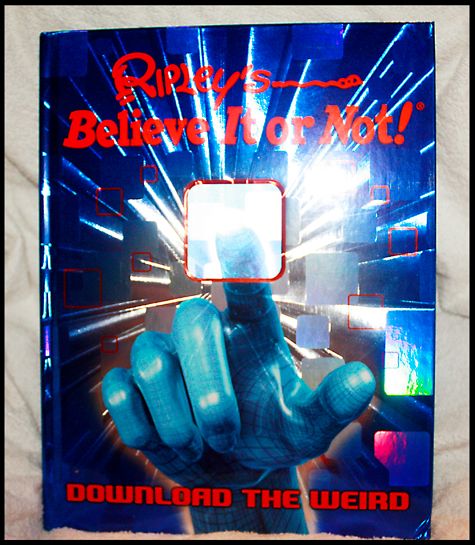 I have always loved Ripley's and have always found it's contents to be fascinating. This book does not disappoint. It is not one that is half the fluff and half the good stuff. Every page has something new and interesting to offer and you are bound to learn something new with every turn. The colors are mesmerizing as well. Any child (or adult really) is sure to be sucked right in through the visuals and then held captive with the info. From the awesome, to the beautiful to the just plain disgusting, it's all there. like this for instance:
What possesses a person to save toenail clippings and make sculptures out of them

?

I'm really not sure. Though I can't deny the fact that this person may have a talent when it comes to making art.... I just don't get it... yet still it has caught my interest, even if it is purely out of disgust. What do you think?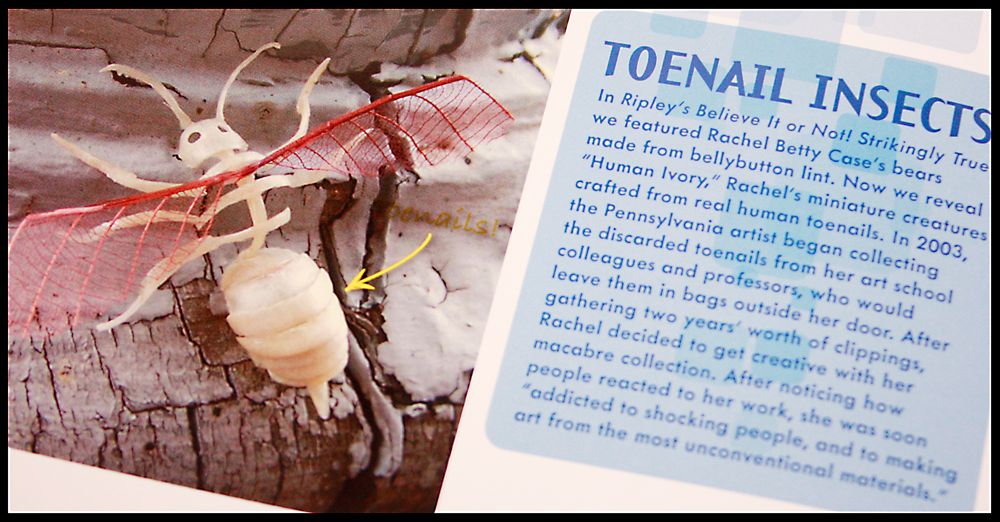 Here is a sculpture I like a lot better. This person made a beautiful eagle out of music cds. If you click on the picture below, you should be able to see the scratches on the cd pieces. How cool is that?!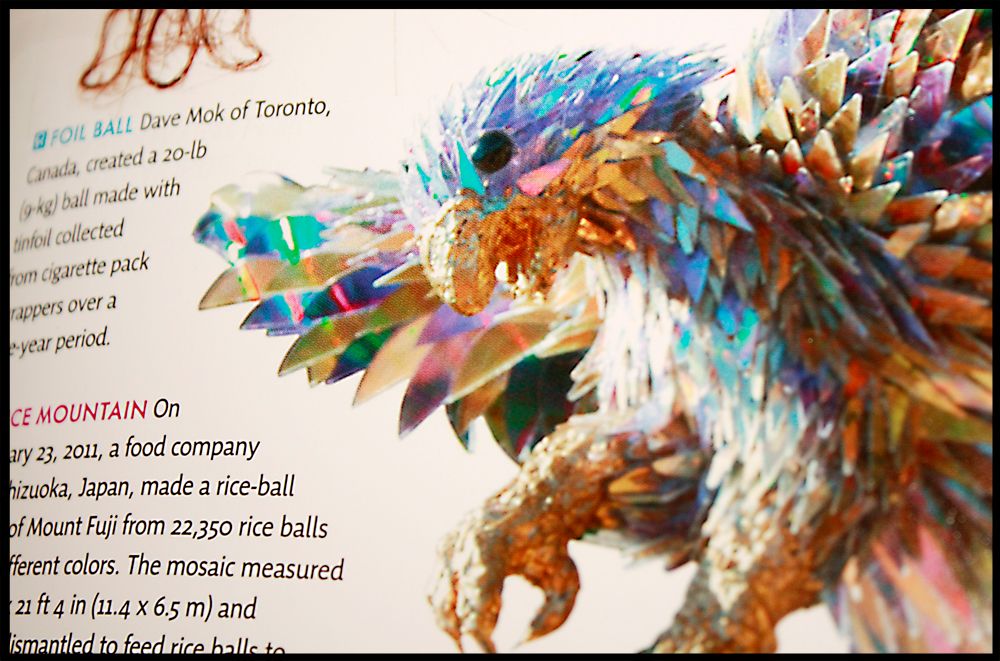 There was lots to see in the book, like this one person who stood on a slim ledge on the side of a cliff face... the picture almost makes you queasy just looking at it

.

I don't even know how you would get such a picture! And the men who can make their eye balls pop out of their sockets, creepy. *shudder* Then there is this lady. I'm sure she is absolutely lovely, but she did make the Streaker hide behind me in fear when she saw her on the computer

:
Check out some d

etails about the book from Ripleybooks.com:
The all-new 9th title in the successful Ripley's Believe It or Not! annual series. As well as jaw-dropping images and strange facts, we present interviews, informative "Ripley's Research" boxes, fascinating black and white photos from the Ripley archive, numerous lists, submissions from Ripley fans around the world–and a brand new Ripley's Weird Records feature.
Award winner in the Young Adult Non-fiction category of the The USA "Best Books 2012″ Awards, sponsored by USA Book News!
Award winner in the Best Cover Design category of the The USA "Best Books 2012″ Awards, sponsored by USA Book News!
Binding: Hardcover with lenticular, engraved foil and special ink
Format: 9×11¾
Pages: 256
ISBN-13: 978-1-60991-032-7
When I was young, it seemed my brothers were always getting Ripley's or Guiness for Christmas, and out of sentimentality and tradition's sake, I like to do the same for my girls. So maybe I am biased, but

I think t

his would make a GR

EAT

Christmas gift. It's definitely a little large to fit in the stocking but I bet you that this book gets passed around at your holiday gathering *smiles* I expect it to go over better than most of the toys!
Or if you would like to wait two weeks and see if you can win one for free, try your hand at some Ripleybooks.com site trivia. The more answers you get right, the more entries you get :) Good luck! Contest ends in 2 weeks

.
a Rafflecopter giveaway

Except for the product(s) given to me for the purpose of reviewing, I received no compensation for this post. All opinions are 100% my own.