I don't believe there has been more than a week go by in the last year that one of my kids has not had an accident. More often than not, that child has found her way into my bed in the middle of the night and either the sound or the wetness wakes me up. It doesn't seem to matter how many times I have asked them to stay out of my bed or to go potty before bed, and usually, it isn't actually a week that goes by, but more like a day or two. Fed up is an understatement. I've started losing my patience with the kids and have stopped feeling sorry for the buggers. Mr. Broofy was getting low on patience with all of us, even me! Something had to be done. My matress was getting stained and ruined and even a shampooer just wasn't cutting it because by the time the bed dried, it was wet all over.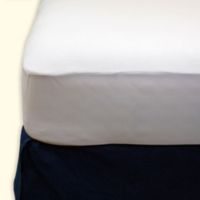 Enter Bedwetting Store, my heroes. They helped save my marriage and my bed. THIS is my new
mattress cover
. It is terry cloth on the top, vinyl on the bottom and has a 10 year warranty. TEN YEARS! Long enough to hopefully get us through even The Peanut's bedwetting years! The mattress cover fits regular and deep mattresses. Mine is a deep mattress and the cover fits just great.
I had tried to buy a vinyl cover before and it was ripped to shreds in just a few days and was noisy and uncomfortable. It didn't fit well either, so I was a bit concerned with how this cover would hold up. So far, so good! Our dog has laid in bed and our kids with no rips. It isn't noisy, which is great and it isn't uncomfortable either. You can tell it's there, but barely. I actually prefer the feel of the cover under my sheets than the mattress alone if you can believe it.
The Streaker seemed to think it was comfortable and couldn't wait to lay on it. It only took two nights to see if it would work and sure enough, it did! When Baby Bee had an accident, it stayed fairly localized. Usually it would go everywhere, following the grooves in the bed's padding, getting at least two other people wet in the process. But with
Bedwettingstore.com
's mattress cover, it stayed mostly in one small area and was a breeze to just rip the cover and sheet off and lay a new sheet down. No towels to sleep on for the night or extra blankets underneath us, just a new sheet. It was a fabulous change of pace :)
Bedwettingstore.com has more than covers too. It has everything for your bedwetting needs. It has starter kits,
bedwetting alarms
, watches, undies and disposables, stain removers... it goes on. Just browsing has given me plenty of ideas on how to further tackle the issue. The alarms emit a sound during the night if the child wets the bed, the watches help to remind children in the daytime to use the restroom, and the briefs come in many daytime and nighttime varieties.
I definitely recommend the Bedwetting Store if you have similar problems with your child. They are helpful and they have everything you could need.
Except for the product(s) given to me for the purpose of reviewing, I received no compensation for this post. All opinions are 100% my own.