So this year has got to be a record breaker for stuffed animal Christmas presents. The girls were in stuffie heaven with stuffed animals of all shapes, sizes, and species. Some made noises and some were puppets, some were for sitting on and some were just for cuddles. Some were life like and some were VERY not. Some even had their own scents.
In fact, the girls got so many things that Christmas recovery took longer than I had hoped and my house is just now back to normal. So it is time to get back to what I love doing, which is finding awesome new ideas and sharing them with you. Sometimes I come across something so insanely cute and functional that it gets me super excited. Usually I don't have the money or means of checking it out, but I was very, very fortunate to be able to add a new unique, fun toy... errr, furniture piece to my home this Christmas and I love it so much, I have to tell you about it!
It's called the Cuddle On Inn, which has to be one of the cutest product names I have come across. Check it out:
It's a stuffed animal hotel! It's a really cute hotel to boot! The goal is to get kids excited about putting their "guests" away for the night after a long day of playing. What parent doesn't want their kids to get excited about cleaning?
The big one laughed and giggled the entire time she filled it up. She had fun choosing what size animal should go in what window and she had fun squeezing them in, especially when there were already lots of animals in the big cavity area. She even had fun rooming animals together and choosing who would be neighbors and who would be climbing the building like King Kong (see the panda?). And the big one is 8, so this isn't something just for younger kids.
This is what it looks like in the corner of the girls' room. Please excuse the uncovered floor, we are remodeling some areas.
I had been debating for a long time about making one of those "zoos" or "pounds" that have been floating around Pinterest. But honestly, it takes a lot of space and it wasn't too appealing to the eye, though the idea was cute. I am so happy I came across the Cuddle On Inn. First of all... it's adorable, just seriously stinking cute. Secondly, you wouldn't believe how many stuffed animals we got to fit behind it where they are hidden from sight entirely. I knew it would hold quite a lot and it held even more than I thought it would. And thirdly, the set up was way easy. You just put the letter markings so that they match up and screw them together!
You will need a short screwdriver to attach it to the wall because it's darn hard to fit a screw gun in there. You can just go ahead and trust me on that one ;) But attachment to the wall is easy too, especially if you mark the spots with marker and pre-drill before doing the actual attaching.
And just to put this out there, the inventor of the Cuddle On Inn has got to be one of the nicest people I have ever worked with. You will definitely NOT be unsatisfied with the customer service you get if you order a hotel from him. He was super professional and did everything he could to help me out, even making sure my girls got it for Christmas. In fact, the girls love it so much that they are planning to send him a thank you card :)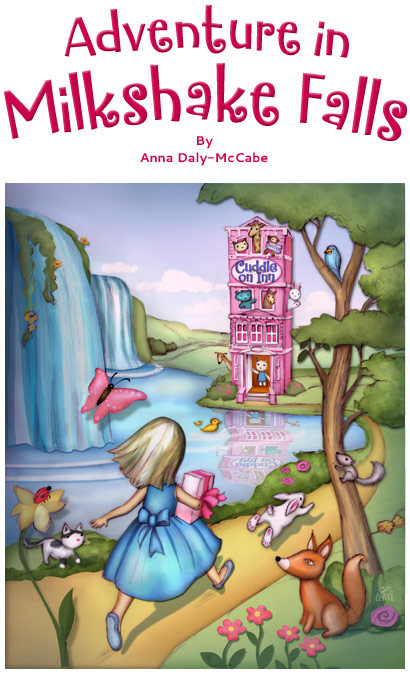 And just to make playing with the Inn a little extra fun, there is a fun story on the site to introduce kids to the Cuddle On Inn before it comes so they know all about the hotel before they get to use it.
After a holiday full of tons of stuffies, my house looks no worse for the wear. And since it doesn't have a babyish look to it, it will grow with the girls and we will love our Inn for years to come. I most definitely recommend this to any parent with a bunch of stuffies they want to control. The kids will love it, use it, and be happy to use it.
Check out the Cuddle On Inn on Twitter and Facebook.
Except for the product(s) given to me for the purpose of reviewing, I received no compensation for this post. All opinions are 100% my own.